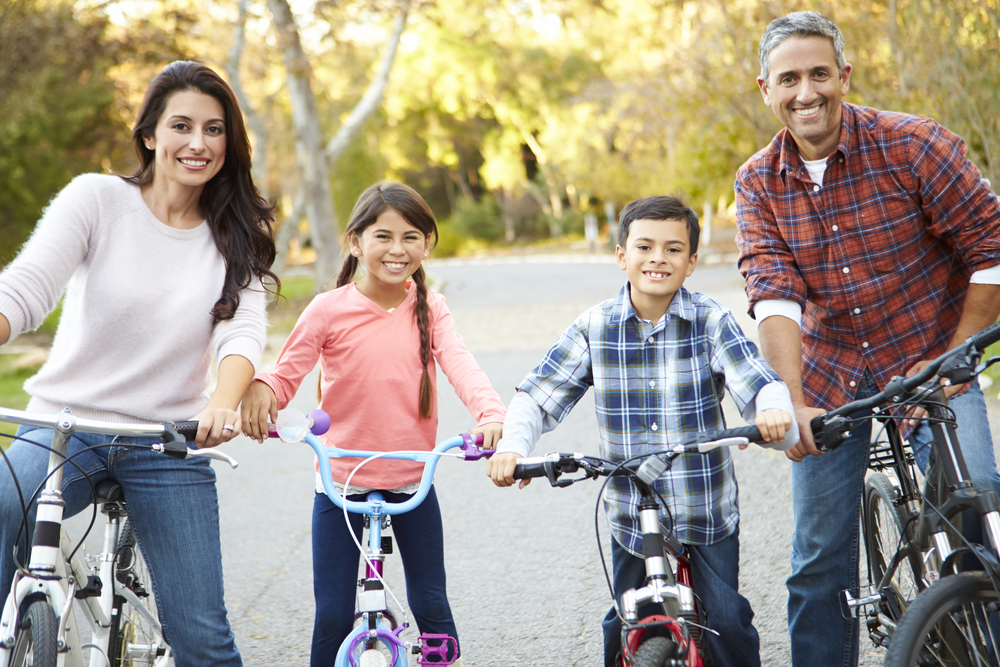 The holiday season is here and that means busy schedules packed with gift buying, travel planning, house decorating, cooking, and, of course, quality family time! Unfortunately, it can be easy to fall out of your daily exercise routine and increase your food intake through holiday meals and decadent desserts. Thankfully, these seven forms of exercise make it easier to stay flexible with your time while working out and make memories to cherish for a lifetime.
1. Start Your Day With a 20-Minute Stretch
Before you get into the stressful parts of your day while rushing to stores, work, school, or working on a challenging project, take just 20 minutes first thing in the morning as a family to stretch and warm up your muscles. This is especially important as we age or while working in occupations requiring hours of sitting. It's also critical for students who are about to sit for extended periods of time in class or little ones who need to prepare their bodies and minds for a day of exploring their worlds.

Stretching does not have to include difficult yoga positions, and it can be as simple or as challenging as you like. So, it's the perfect habit to adopt for all ages, balancing abilities, and flexibility levels. To make it more fun, mix it up with a friendly competition to see who has the best backbend and who can touch their hands to the floor from a standing position.
2. Take Several Short Walks or Bike Rides
When you think of family walks or bike rides, you may imagine having to set aside at least an hour if not more out of your busy schedule. However, a few quick bursts of exercise, such as walking, running, tossing the football around, or riding bikes, can make a big difference in how you feel. As a bonus, you'll be creating bonding moments with your family, friends, or colleagues and short breaks have been found to increase productivity levels. Hence, the next time you have a break from work, running errands, shopping for holiday gifts, or studying, try a quick physical activity with your loved ones or peers. Your body, mind, and heart will thank you!
3. Plan an Activity Outdoors
If you have the time and the weather looks nice, a nearby trip outdoors may be the key to crafting a family memory worthy of cherishing for a lifetime! Taking in the fresh air and being able to run around freely will put everyone in a positive frame of mind for your selected adventure. Depending on the ages and physical abilities of your crew, some fall weather activity ideas include hiking, camping, rock climbing, zip-lining, obstacle course training, golfing, tennis playing, and mountain biking. Even if you are not a skilled athlete, these are the moments that allow you to connect with loved ones, reduce stress, and simply have fun!
4. Create a Scavenger Hunt Around Town
Does your family like to search for clues and win prizes? Then, a scavenger hunt could prompt a hilarious adventure that all can enjoy. Whether you stage your finds, carefully place clues to uncover, or do some super sleuth work beforehand to note unique statues, signs, or other unique landmarks to use in the hunt for treasure and bragging rights, a scavenger hunt can improve teamwork skills and social skills while using your focus, strength, and endurance to finish first! Who's in?
5. Play Outdoor Yard Games
If you like the thought of being outdoors but you don't want to leave home to enjoy your time with loved ones, you can have a blast with a physical activity like flag football, soccer, or a game of "Capture the Flag" in your yard or nearby patch of grass. There's a reason kids love to play these games, yet as adults, we often forget how much bonding value and pure joy is built into such activities. Of course, these games also work wonders for getting the wiggles out before bedtime or burning off calories after a heavy meal.
6. Turn a Board Game Into a Life-Sized Game
No more sitting around board games for hours. Let's get moving and keep the fun at the same time by creating a life-sized board game outdoors or in a large room in your home. It may take some ingenuity to build a board game in your backyard. However, with some creativity and a little imagination, you can make natural objects or newly built props into game pieces that allow your family to play their favorite board games while still using large muscle movements.
7. Laugh Often!
Did you know you can burn calories just by laughing? While it's not exactly going to counteract a slice of pecan pie, you will work off a few calories with each joyful moment as your spirits are lifted and the stress melts away proving sometimes laughter plus being surrounded by loved ones really is the best medicine of all.

Don't forget your annual wellness visit!
All of that eating, exercising, gift buying, and rushing around to get the house ready for visitors may steal the spotlight in your calendar, but don't let it distract you from important wellness visits. These routine appointments help you stay healthy and able to tackle everything you want to do this season. At Navarro Medical, we make it easy to work your wellness visits into even the busiest of schedules. Contact us online or call us at (863) 949-6541 to make your next appointment today!