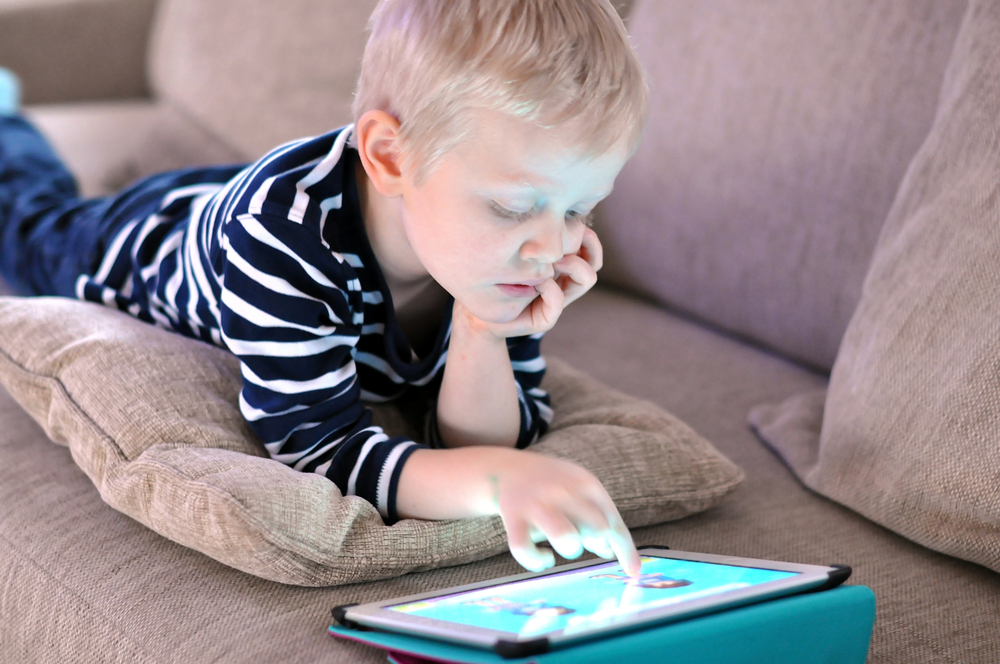 For most parents, determining healthy limits regarding screen time usage for their children can be a challenging discussion. Young children often use television and tablets for entertainment and engaging early learning apps. Students use a variety of devices to play games, stay connected with friends and family members, and complete homework assignments. With so many reasons for children to stay tuned in to the screens, how can parents determine when it's time to take a break? Use this guideline to help set and maintain a healthy balance of on and off-screen activities.
Healthy Benefits of Screen Time
There are many benefits to screen time, such as monitoring one's health with a Smart Watch and mobile phone or checking in on the latest news regarding one's family, place of employment, industry, community, and global events. Texting, group chats, emails, Internet surfing, learning games, health or education-related apps, informational videos, podcasts, homework apps and sites, and TED Talks are just some of the ways screens can be put to good use for helping students and adults alike expand their minds and perform at their best.

Also, for professionals, screens play a role in: (1) Expanding team communication efforts while bridging the gaps for departments or individuals who are not working in close proximity, (2) Creating an online presence that attracts more customers, (3) Providing an opportunity to reach out to current and new customers with news and promotions, (4) Responding to customer questions or concerns, and (5) Reducing the number of meetings required by sending emails. In fact, screens are the reason many people are free to work from home instead of having to rely on physically being in the store or office in order to earn an income. But, when it is all too much and how does one know when to power off the screens and experience memorable moments the real world with friends and family?
Potentially Negative Results From Too Much Screen Time
While screens clearly offer a wide variety of educational and communication advantages, there are some less desirable health effects of spending an abundance of time bouncing between Smart Watches and mobile phones to laptops and gaming consoles or television screens. Examples include getting overly stressed from gaming or monitoring the news too closely, eye strain, dry eyes, headaches, obesity, sleep problems, chronic neck and back problems, depression, anxiety, isolation from family and friends, and poor performance at work or school.
How to Determine the Right Amount of Time
According to the American Academy of Child and Adolescent Psychiatry, limits should include an hour during the weekdays and three hours on weekend days for children under six years of age. Students and adults should be closely watching for symptoms of an imbalance as noted above as well as talk to family members about how screen time may be interfering with fostering healthy relationships at home. For those who are spending a whopping 17 or more hours looking at screens per day, it may be time to take a hard look at the impact of screens on one's health as well as relationships and work efforts. Try setting limits to reduce those harmful effects while creating more balance.
How to Avoid Meltdowns When It's Time to Turn the Screens Off
No one likes to stop having fun while gaming or connecting with friends. Moreover, interrupting a great rhythm at work or stopping in the middle of a homework assignment can be a real struggle. However, once the limits are set for striking a healthy balance, it is important to stay as close to those limits as possible. Consistency can be the greatest aid in this battle for maintaining a healthy balance for people of all ages. Knowing before the screens are turned on what those limits are can help prepare the right mindset for turning off the screens when that time arrives.

Still showing signs of stress or anxiety? Try taking a vacation away from screens for a weekend and go on an adventure. A nearby hike or camping trip, a day at the beach, or a series of family bonding activities may be just what the family needs to reset and recharge.
Where to Go for More Help on How Screens can Impact Your Health
Florida residents who live in or near the Lake Wales area are welcome to schedule wellness visits with Dr. Navarro and ask questions about how screen time may be impacting your health, work or school activities, and relationships. Dr. Navarro is currently accepting new patients at this time. Schedule your next health monitoring appointment or wellness checkup today.